What began as a simple idea, or rather an emotion, became the story of one of my most favourite shoots to date.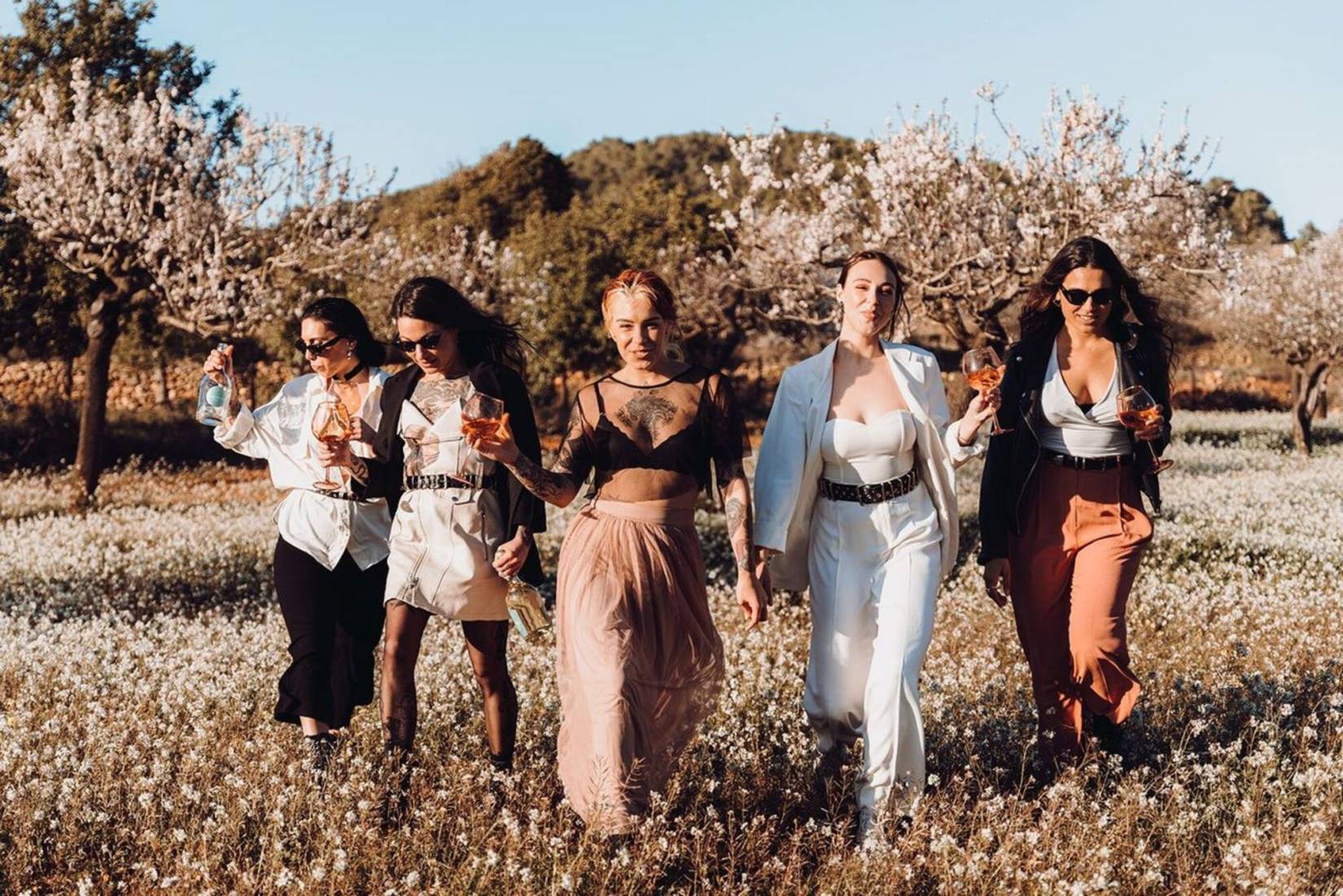 As an event planner you have probably already guessed that I love a good challenge! Turning off the wall, eccentric, and sometimes frankly crazy ideas into reality, is what sets my soul on fire. I adore making magic happen, seeing people wowed, entertained and happy! Driving through the picturesque Ibiza countryside village of Santa Agnes recently, I felt inspired to create something beautiful there, to tell a story unlike the whimsical bohemian stories often recreated in Ibiza, but instead something that went against the grain. I wanted to curate the story of a rebellious couple eloping, wild and running free on an adventure to be wed in pretty soft hued fields. I contacted long time friend and fantastic photographer, Cristina, to share the idea and without hesitation, we began organising the shoot. We imagined a bold unconventional wedding, surrounded by the delicate natural tones of nature dappled in late afternoon sunlight.
The postcard perfect location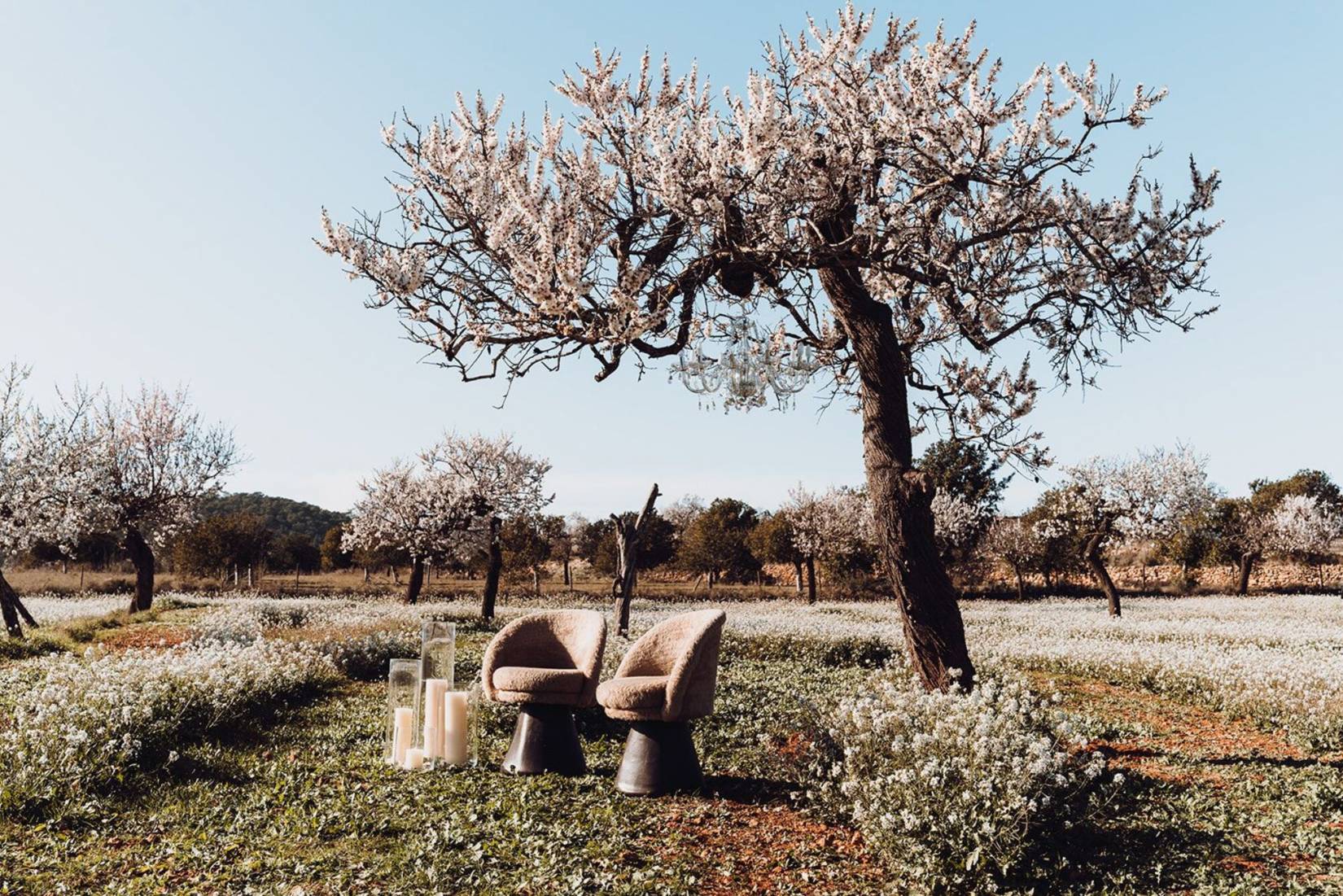 Contrast is what makes photography interesting" – Conrad Hall
When you think of rock, you're immediately transported to an era gone by; with this in mind, I reached out to my friend at WOW Restaurant in the neighbouring village of Santa Gertrudis and asked if we could borrow some of her gorgeous furniture. It's gorgeously eclectic, so I knew it would be just perfect for this shoot.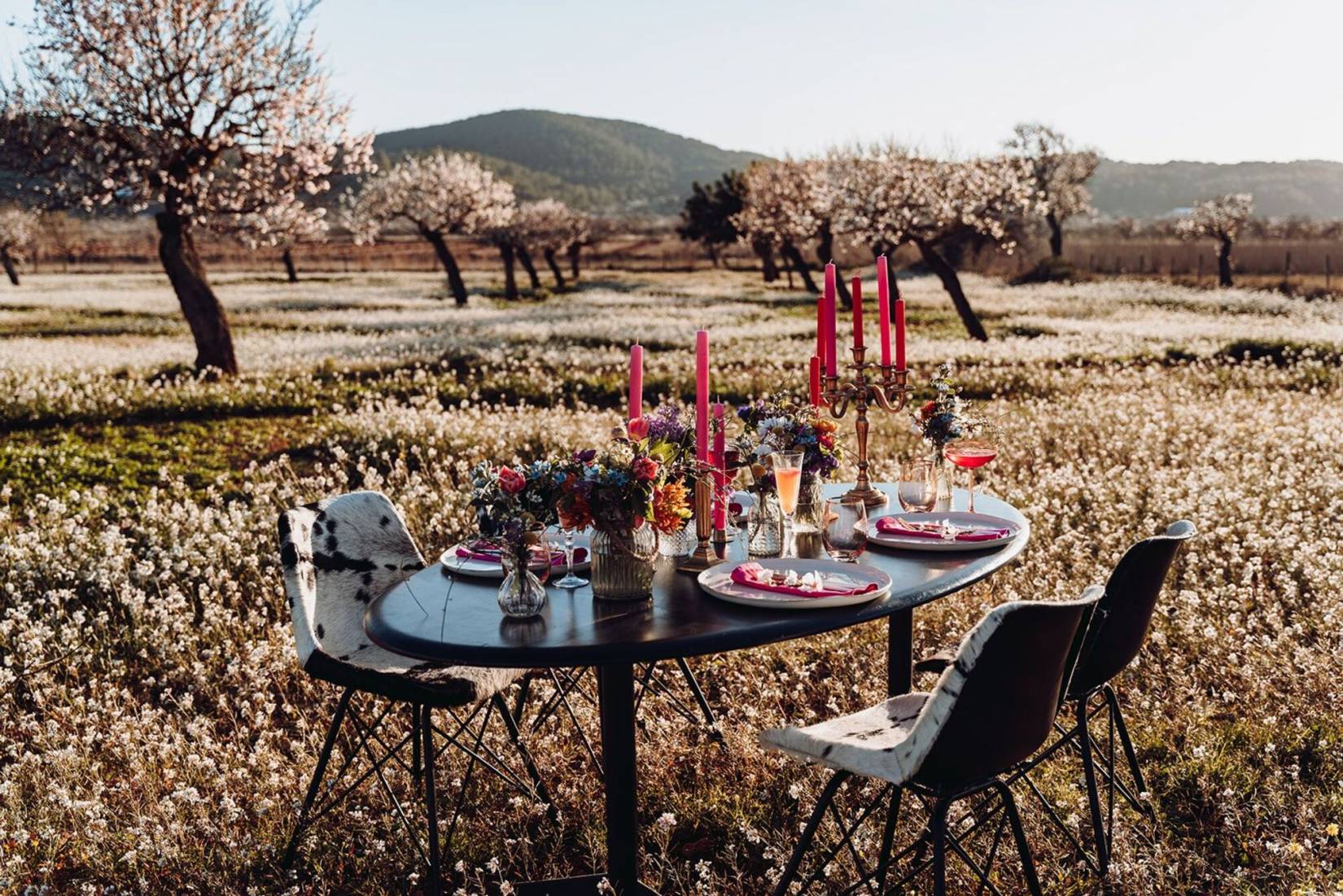 "To create something exceptional, your mindset must be relentlessly focused on the smallest detail" – Giorgio Armani
We opted for bold colours to contrast with the nude tones of the surroundings; Kristin @flowersibiza took care of the floral artistry, opting for vivid pops of colour with the most beautiful mix of blooms..
The divine cake was crafted to perfection by @Sweet_Cakes_Ibiza and adorned with more of the bold coloured flowers. The pretty fuchsia pink cocktails were especially curated for the occasion by mixologists from trusted mobile bar service, 'The Bar Ibiza'. Whilst the party bubbles aka prosecco were supplied by aptly named @thegigglewatercompany.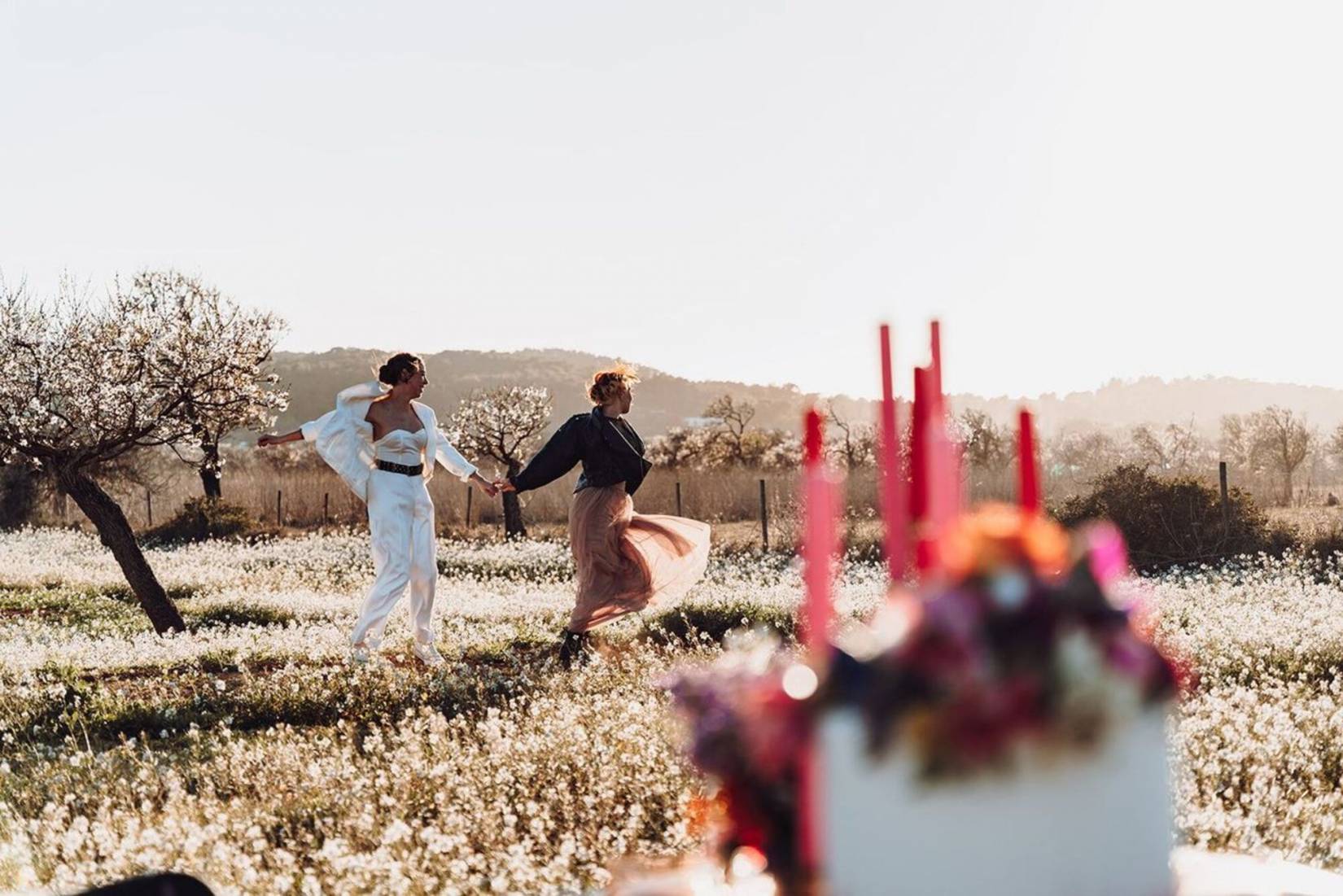 We steered away from the obvious, swapping a traditional wedding dress for a white tux with corset instead, adding boots as opposed to heels, and black leather rather than soft white lace, rebelling against the conventional wedding grain. Our models @fritanguitaqueen and @paolarodrigz4, pulled off the looks effortlessly, adding an all important touch of sass.
The entire day was captured wonderfully by Cristina @white_stories_by_cris alongside assistant photographer Sol @solaso. Creative, zesty and playful.A day to remember for sure! With special thanks to our incredibly talented creative team:
Creative Direction + Planning @white_stories_by_cris + @your_wedding_concierge Photography – @white_stories_by_cris Assistant – @solaso Set Stylists – Decor @velvetcircusibiza + Flowers @flowers_Ibiza + Stationery @vineinthewild Food – Wedding Cake @Sweet_Cakes_Ibiza + Beverages @thebaribiza @thegigglewatercompany Stylists – Hair & Make-Up @nwhairmakeupbeauty + Fashion @white.island.styling.ibiza Bride Models – @Fritanguitaqueen @paolarodrigz4 Bridesmaid Models – @arianna__casari @endless_ltd @paunkclothing
If you need help designing or organising your next event, email me at gabriela@your-wedding-concierge.com – I'd love to hear from you.