Sustainable Wedding Planning | Eco-Friendly Tips
---
Weddings on the whole don't tend to be hugely eco-friendly events, however couples are becoming increasingly aware of the impact their big day can have on the environment and are opting for more sustainable choices when making their plans.
In recent years the Balearic islands have been working towards becoming greener in a bid to preserve and respect their beauty. Not every couple will know where to start when it comes to considering sustainability for their wedding, so I've pulled together a list of ideas to help you consider going a little greener too…
E-Invites
Rather than sending tangible invites out, consider emailing them instead. This is not only a sustainable option, but can also save you a some extra cash, not to mention time when it comes to chasing those RSVPs! Just because these invitations are paperless, it doesn't mean your wedding invitation can't emulate your style. If you're looking for something fun, why not consider a personalised video as your e-save-the-date?
If you didn't already know, wedding websites are a thing and they offer so much more than an envelope in the post can. A personal wedding website acts as a central hub to share information throughout the entire process of your wedding with your guests. Share your save the dates, your gift list and a Google Map to get your guests to the venue. Manage your guest list and RSVPs, share food options and request special dietary requirements. After the wedding you can upload a thank you note or personalised video, and easily share your wedding photos for everyone to ooo and ahh over.
Electric Cars
An electric fleet of vehicles is the perfect choice if you're interested in protecting the environment. With newer technologies offering not only greener transport options, but also some rather chic ones too, boosting their popularity in recent years.
Renting electric cars can offer cutting-edge technology, a very smooth drive, state-of-the-art equipment, maximum road safety and high performance if your running late! From a Tesla to an island style Citroën E-Mahari, electric cars are not only cool, but clean.
Flowers
Ibiza enjoys warm sunshine for over 300 days a year with the island remaining extraordinarily green considering. There's an abundance of indigenous blooms popping up all-year-round in addition to the picture perfect pine forests, citrus, almond, olive and fig trees surrounding Ibiza. During the summer months, you'll find oleander, bougainvillea and hibiscus flourishing in beautiful pinks, reds and purples, whilst in the cooler months you'll find lavender and citrus blossoms in full bloom.
Opting for locally sourced flowers not only saves you from splurging on expensive flowers which are required to be shipped in cargo to the island, but flowers grown organically and locally also support the local eco-system, benefiting the local wildlife and environment too.
Talking of flowers, natural bio-degradable dried petal confetti can be thrown anywhere without causing any damage to the environment. It's pretty, you can select a colour to work perfectly with your wedding colour scheme, it's still cost-effective in comparison to paper or even plastic competitors, and it smells beautiful. Need I say more?
Decoration
It's highly likely when arranging a wedding abroad that you've already considered hiring your decorations and furniture, however if you haven't you should. It's cost effective, sustainable and frankly the best way to go. When it comes to balloons there are now bio-degradable options (yup, it's true!) and if you're considering incorporating something personalised, neon signs are not only on trend, but they also work as the most perfect keepsake to hang in your home after the big day. See my recent style guide on up to the minute wedding trends.
Wedding favours
Plastic wrappers and cellophane bags have had their day, opt for plastic-free personalised biscuits or cookies, or if you really want your wedding favours to be gift-wrapped, you why not consider using little paper bags instead.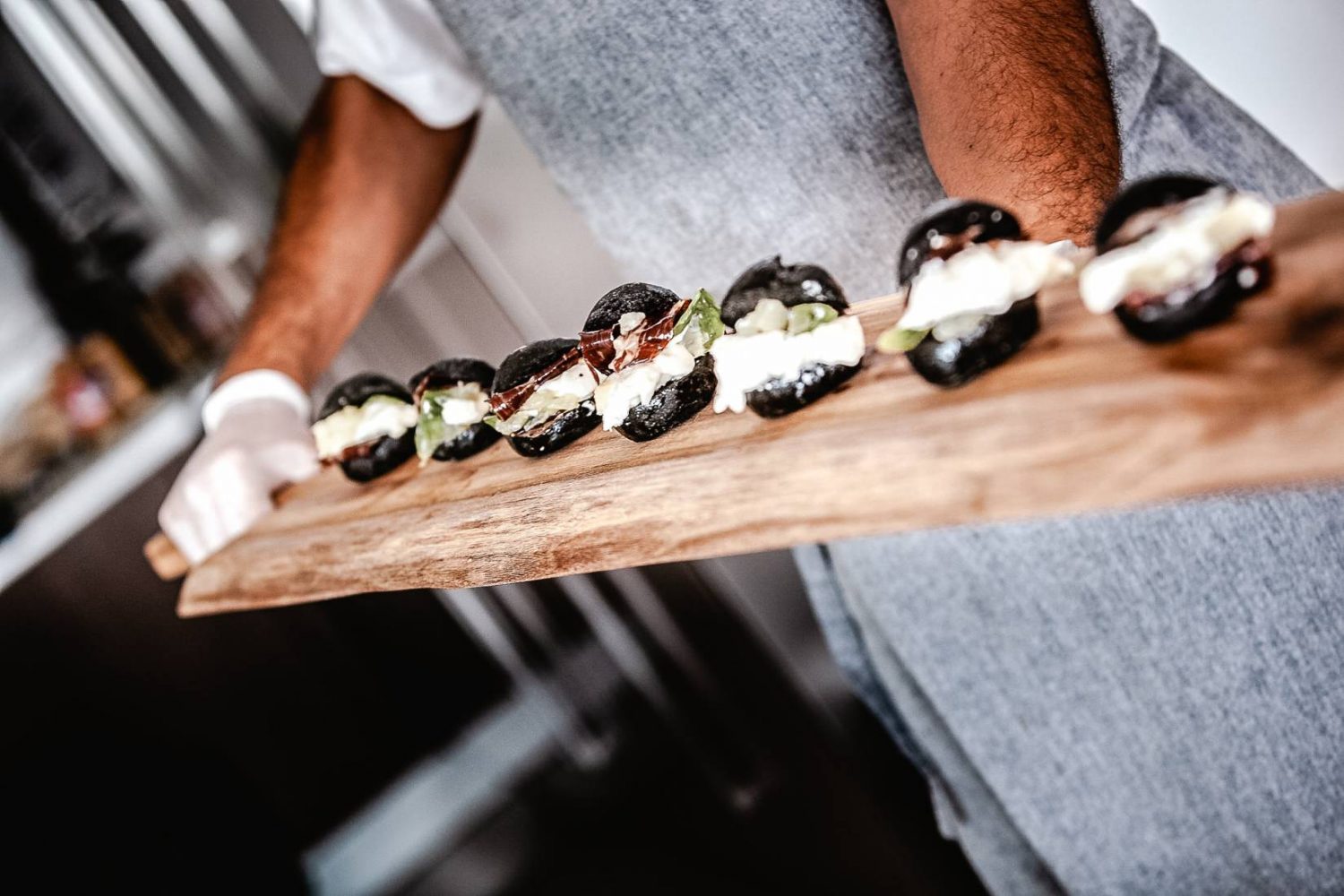 Catering
When it comes to catering, select a caterer who is focused on sustainability, using locally sourced produce from local farmers. Pick what's in-season and consider a menu that works with the local produce. Citrus trees, almonds, carob, lavender, rosemary, figs and many more delights are in abundance locally and any good local chef will be able to create some beautiful dishes with using only the island's produce.
You may not realise it, but just cutting on the packaging and shipping alone will reduce your impact on the environment, whilst eating local food also boosts the local economy. #WinWin.
Plastic Free Dinnerware
It may not seem like a problem if you're having a sit down meal, however you might wish to also consider banning single use plastic such as straws and replacing them for bamboo or cardboard, and also swapping plastic cups to compostable or cardboard ones.
There are many great environmentally friendly options to choose from which won't make your day any less stylish or luxurious. If you're looking for a hand planning your big day, I'd love to help you, get in touch to find out about my services.