Where to Hire Gorgeous Wedding Cars in Ibiza
With breathtaking views and sandy white beaches, Ibiza is the perfect location for your big day. Wedding planning is always super exciting with your perfect celebration in sight, although for many it can also be a little overwhelming with so many options to choose from, with wedding cars being one of them! But, I'll let you into a little secret, I have a few unique options for your Ibiza wedding…
Mustang Adventures – the iconic all-American car with attitude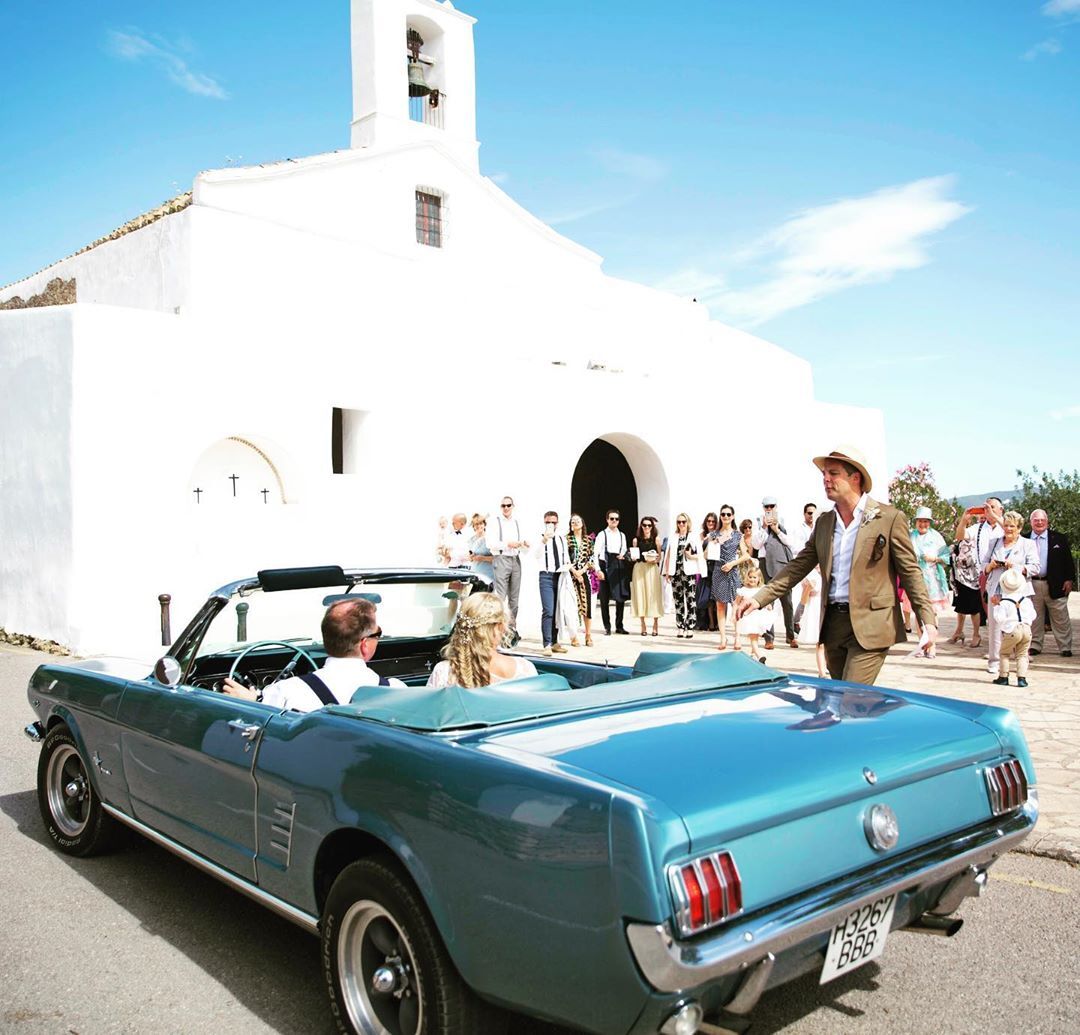 It goes without saying that Mustangs immediately add an element of luxury and elegance to any event. These iconic cars are not just gorgeous but also fast and fun! Mustang Adventures offers a wide range of hard-top and soft-top convertibles, in different colours – I love their aquamarine Cabrio! You can also choose to go for an automatic or a manual shift, the latter for any sports car lovers who want to feel the power of that engine under their control.
All of the Mustang Adventures' fleet has been recently restored, ensuring they are in pristine condition, as if they have just left the factory! This great American classic will definitely get heads turning and tongues wagging on your big day, leaving a lasting impression.
Ducks United – Romantic or Adventurer?
Ducks United are a great choice because they offers a fleet of cars that can please anybody's tastes. The timeless and romantic 2CVs, for those couples who want to turn back time on their big day with that bohemian hippy vibe which is perfectly in tune with Ibiza's lifestyle.
If you're more of an adventurer and you're looking for a trendier car, then maybe a Land Rover Defender is more up your street? Ducks United also offer these perfect island 4x4s, equipped to take you off the beaten track through the scenic campo, flying with ease down those rugged Ibizan caminos.
Looking to go for something a little greener? As I mentioned by in my recent 'Sustainable Wedding Planning' post, why not select an electric Mahari? Ducks United also have a fleet of these fantastic little island cars, perfect for getting you from A to B in style!
Every Ducks United car is fitted with MP3 and iPod connections, so you can choose the perfect soundtrack to your magical day.
Pink Bus Events – Something a little quirky for your wedding day?
Groovy, bright and quirky, these are just some of the adjectives that perfectly describe Heidi, the event bus that will add colour and style to your big day. Pink Bus Events will take care of any request you may have, happily decorating 'Heidi' with your chosen colour or theme.
Heidi the camper van isn't just perfect for getting you around the island, but she makes the perfect prop for photos too, giving hours of fun with your guests as well as fun memories of your big day!
And of course, if you are looking for another style of chariot, feel free to reach out, as I pride myself on being able to make anything happen…
If you haven't found your Ibiza Wedding Planner yet, I'd be delighted to hear from you. I also offer my services in Formentera, Mallorca and the south coast of Spain too. Get in touch to find out more about how I can create the perfect wedding day for you!